Batwing distribution for horticultural leds
Implemented in Oslon Square Batwing, the distribution comes purely from a primry lens built into the pacakge.
"Current LED fixtures often have a lambertian primary lens and no secondary optic, or a simple glass cover, which lead to hotspots with high concentration of light directly under the luminaire," according to the company. "Batwing optics enables a radiation pattern that looks like wings. The beam angle of 140° and the rectangular shape of light distribution enables higher uniformity. The wider angle also allows for a larger distance between the luminaires."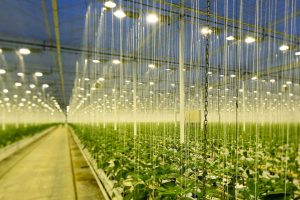 The leds come in four colours:
hyper red (660nm)
deep blue (450nm)
far red (730nm)
'horti white'
"The hyper red version achieves an optical output of 1,042mW at 700 mA, causing a wall-plug-efficiency of 74%," it said.
Deep blue and hyper red provide the light for the photosynthesis, while far red is offered to control the plant from germination to vegetative growth and flowering. Horti white is there to offer a human-friendly working environment, said Osram. "Additional colors like blue, true green, yellow or red are also available for special light recipes."
80°, 120° and 150° illumination angels are available.
All devices have a 3 x 3mm footprint, and lifetime can reach 102,000h.