Elektra 2021 – Vote for the University Research Readers' Choice award

The magazine's editorial team has selected six research projects from the last year as the shortlist, for your consideration, and you are invited to vote for the one you think will make the largest impact on the commercial market in the next five years.
Alphabetically, they are from the universities of Bath, Cranfield and Exeter,  Glasgow, Imperial College London, Nottingham and University College London. Read the entries below and then cast your vote!
Loading …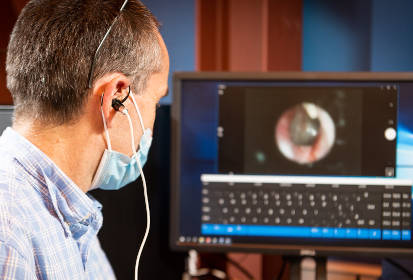 University of Bath – Tense your inner ear to control a computer
Voluntary motion of a muscle deep inside the ear could control computers, particularly for those with advanced motor neuron disease or other form of restricted movement, according to the University of Bath. GP Dr Nick Gompertz is behind the interface, and he is working with a team from the University. "When I was a medical student, I witnessed people losing the ability to use keyboards that they relied on to communicate," he said. "I have always been aware of the ability to tense a muscle in my ear, and so wondered if it could be used to control these communication devices." The muscle is the tensor tympani, and the team's current prototype is a miniature camera held in a silicone ear-piece.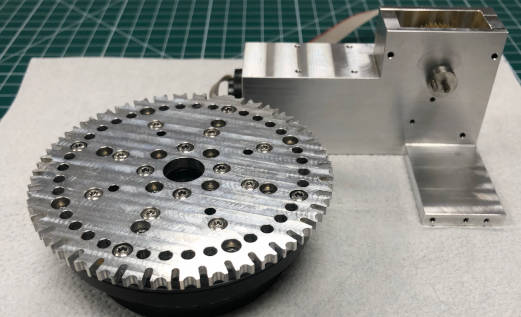 Cranfield University, University of Exeter – Space instrument spurns stepper for brushed dc motor
BAMMsat-on-BEXUS is an attempt to create a miniaturised bio-lab compatible with 3U CubeSats, run by academics and students from Cranfield University and the University of Exeter. "Researching the effects of microgravity and radiation in on-ground facilities has technical constraints that can add complexity to data interpretation," said project head and Cranfield PhD student Aqeel Shamsul. "However, in-flight experiments come with their own challenges, often entailing expensive launch missions. These factors are limiting research into the effects of environmental space factors on biological systems. We're combating this by designing a cheaper way to conduct biological research in space." The lab has a disk with multiple chambers along its edge that contain isolated biological samples which can be rotated to face a microfluidic inlet and outlet through which food can be supplied or samples extracted.
University of Glasgow – Glasgow researchers develop new plate-lattice metamaterial
A team led by University of Glasgow engineers have developed a new plate-lattice cellular metamaterial capable of impressive resistance to impacts. Plate-lattice metamaterials are cubic structures made from intersecting layers of plates that exhibit unusually high stiffness and strength, despite featuring a significant amount of space between the plates. Those spaces make plate-lattices unusually lightweight. The researchers set out to investigate whether new forms of plate-lattice design, manufactured from a plastic-nanotube composite they developed, could make a metamaterial with even more advanced properties of stiffness, strength and toughness.
Imperial College London – ICL magnetometer to help NASA's IMAP mission study solar wind
Imperial College London (ICL) is to design and build an instrument for NASA – a magnetometer – for its heliophysics mission, the Interstellar Mapping and Acceleration Probe (IMAP). The goal of the mission is to observe and map the Sun's heliosphere, helping to better understand the constant flow of particles from the Sun, known as the solar wind, and potentially damaging solar flares. NASA says the ICL magnetometer is a dual sensor fluxgate magnetometer and includes electronics, a power supply system and on-board computer. The two sensors are located on a boom to reduce the effects of magnetic interference from the spacecraft. The instrument will contribute to an understanding of the acceleration and transportation of charged particles in the heliosphere, by measuring the interplanetary magnetic field around the spacecraft.
University of Nottingham – A possible red hot future for electric vehicle batteries
High-temperature batteries could one day power road vehicles, according to the University of Nottingham, which has worked with Chinese universities to take a step forward with molten salt 'metal-air' batteries. Having a battery running at 700-800°C might seem a little impractical. "This molten salt battery has multiple feasible application directions, and transport is one of these," Nottingham professor of electro-chemistry George Chen told Electronics Weekly. "It is indeed a high temperature battery, but the working temperature is actually about the same as the temperature of the engine exhaust gas from a petrol or diesel engine. In principle, maintaining the temperature can be achieved by the currents for charging and discharging of the battery, good thermal insulation and some additional electric heating if necessary."
University College London – Tattooable OLED anyone?
Researchers at University College London have created an OLED that can be applied to skin like a children's transfer tattoo. So much like a child's transfer is it, that it is made on the same type of substrate and applied the same way: wet it, stick it, and peel off the backing paper. The OLED starts life as a sheet of commercial 'tattoo paper' – this is already a laminate of a smooth-surfaced paper called glassine that is coated with a water soluble starchy layer, then topped with a water-resistant layer of ethylcellulose – the latter of which is usually printed on to make the tattoo image. In use, water soaks through the paper, dissolves the soluble layer into a slippery sludge, allowing the ethylcellulose layer to be left on skin with its image.