First active debris removal mission ClearSpace-1 gets launch contract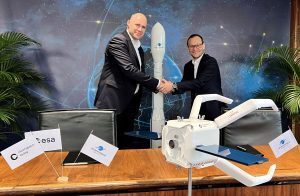 It will use the new European light launcher Vega C to release ClearSpace's spacecraft into a sun-synchronous drift orbit for commissioning and critical tests. The servicer spacecraft will then be raised to the client object for rendezvous, capture and subsequent "deorbitation" through an atmospheric reentry.
The launch is scheduled from Europe's Spaceport in French Guiana, starting second half of 2026.
What will be removed from space? The debris object is the upper part of a Vespa (Vega Secondary Payload Adapter). This was left in a 'gradual disposal' orbit )in compliance with space debris mitigation regulations) during the second flight of a Vega launcher in 2013.
It is described as being close in mass to a small satellite, and the relatively simple shape of the space debris object will serve to demonstrate the technologies of the spacecraft and its quartet of robotic arms. More challenging missions with multiple captures per flight are anticipated to follow
ClearSpace-1, developed by ClearSpace – which is a Swiss–based space debris removal startup – is the first active debris removal mission, aiming to rendezvous with, capture and remove a piece of space debris.
"Above us, there currently are over 34,000 pieces of space debris of more than 10 centimeters each as well as about 6,500 operational satellites in orbit, a number expected to rise to more than 27,000 by the end of the decade," said Stéphane Israël, CEO of Arianespace.

"These figures demonstrate the need to find innovative solutions for preserving the benefits of Space for humanity and life on Earth. At Arianespace, we are honored to deliver this mission with Vega C, thus supporting a sustainable use of Space."
Pictured above are Luc Piguet, ClearSpace CEO and co-founder, and Stéphane Israël, signing a contract for the launch of the ClearSpace-1 mission, due in 2026.
Image: Arianespace, ClearSpace
See also: ClearSpace space debris removal raises €27m Series A
View more : IGBT modules | LCD displays | Electronic Components