Glasgow Prestwick Spaceport signs Astraius for horizontal launches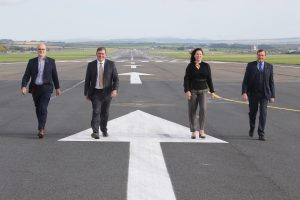 A Memorandum of Understanding (MoU) has been signed with Astraius for the organisations to collaborate for the orbital launch of small satellites from 2023. They will also be working with other project partners, such as the Scottish and UK governments.
The Ayrshire spaceport, represented by Glasgow Prestwick Airport and South Ayrshire Council, describes it as a landmark deal that will boost Scotland's space industry ambitions. Enabling the launch of small satellites, the venue is aiming to provide cost effective access to LEO and microgravity environments.
"Glasgow Prestwick Airport is perfectly positioned to become a leading provider of space launch services after being at the forefront of aviation and aerospace for almost 100 years," said the Commercial Director at Glasgow Prestwick Airport, Zoe Kilpatrick (pictured 2nd right above).

"In Astraius we have identified a partner with the vision, expertise, and proven technology to help fast-track our ambition to become Europe's premier launch location, offering spaceflight as part of a proposition that stretches beyond launch, bringing a wide range of space related benefits to the region."
Astraius
Astraius is a London-headquartered satellite launch provider, with executive offices in Washington DC, and operational locations in Alabama, Florida and Scotland. Its launch system can delivers satellites into all Low Earth Orbit Inclinations, Equatorial Orbit, Sun Synchronous, and Geo-Synchronous Transfer Orbit.
The company is planning to begin the horizontal launches – which it describes as "proven, reliable, weather robust and cost-effective" – in 2023.
The C-17 Globemaster military transport aircraft, pictured above, will operate from the Spaceport to carry and launch the Astraius rocket, to provide the 'air-launch' platform.
According to Astraius, its payload processing, vehicle integration, launch telemetry and a new mission control centre, will provide one of the most advanced launch facilities in the world.
The company's CEO, Kevin Seymour (pictured 2nd left above), commented:
"This landmark agreement is both strategically and commercially significant. In partnering with Prestwick, we will be able to deliver on our promise to the many satellite customers looking for launch certainty. This is an important milestone for both Astraius and Prestwick Spaceport and will add to the development of a vibrant space sector for Scotland and the UK."
Cornish competition
Note that Prestwick will face competition from Spaceport Cornwall, at Cornwall Airport Newquay
in June, the US company Sierra Space signed a memorandum of understanding with the Cornish Spaceport for horizontal launches. It would be using vehicles such as Sierra Space's reusable Dream Chaser.
Spaceport Cornwall has also been wooing the services of Virgin Orbit, which has previously claimed it will achieve the UK's first ever sovereign orbital launch from the site in 2022.
Spaceports
The UK Space Agency currently recognises seven spaceports. Five are in Scotland, one in Wales and one in England.
They are: Spaceport 1 (Scolpaig Farm, North Uist,Outer Hebrides, Scotland), Spaceport Machrihanish (Campbeltown, Argyll, Scotland), Prestwick Spaceport (Prestwick, South Ayrshire, Scotland), Space Hub Sutherland (A' Mhòine peninsula, Sutherland, Scotland), Shetland Space Centre (Lamba Ness, Unst, Shetland Islands, pictured), Spaceport Snowdonia (Llanbedr, Gwynedd, Wales) and Spaceport Cornwall (Cornwall Airport, Newquay, England).
See also: Lockheed Martin gets approval for Shetland Space Centre plans