Government £150m for 5G deployment, 6G development and satellite connectivity
The government has committed up to £100 million of funding initially to shape and drive early-stage research into 6G and influence global standards-setting.
"We want to ensure that 6G is developed to meet the needs of people and businesses right across the UK and bolster our international competitiveness throughout the economy," says the Secretary of State for Technology Michelle Donelan (pictured).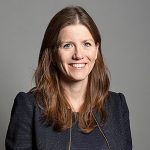 The government's aim is to deliver standalone 5G to all populated areas by 2030. £8m is earmarked to for delivering high-speed broadband for up to 35,000 of the UK's most remote properties. Under the new scheme, homes and businesses in the most remote areas that are unable to be connected to gigabit-capable broadband will be given funding to link them up to satellites, giving them a broadband connection that will be up to ten times faster than what is currently available to them.
The £40 million 5G innovation funding will promote investment and adoption of 5G by businesses and public services, helping them unlock opportunities to use wireless connectivity.
The Government has also reconfirmed that there is no 'magic number' of mobile operators, whilst noting all decisions on consolidation are for the Competition and Markets Authority.
The UK is due to hit 75% gigabit broadband coverage this month, up from just 6% in 2019, and is on track to deliver 99% by 2030.
View more : IGBT modules | LCD displays | Electronic Components