NB-IoT monitors Dorset landslides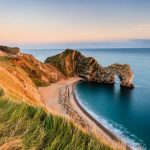 Vodafone's NB-IoT technology is being used to detect landslides along the Dorset coast and supply data to local farmers on cows, soil, and tractors.
Sensors connected to Vodafone's NB-IoT will allow academics, businesses, and local authorities to adopt smarter approaches to monitoring environmental and public safety issues.
The technology is being used initially in two pioneering trials – coastal cliff monitoring and smart farming – as part of a UK Government and Dorset Council-backed initiative, called 5G RuralDorset.
5G RuralDorset has partnered with the British Geological Survey (BGS) to work alongside Vodafone, Bournemouth University, Neutral Networks and Dorset Council.
The partnership is working to produce a monitoring system using  geoscientific data to help decision-makers manage coastal hazards and improve resilience.
Using the Vodafone universal device, data collected by sensors developed by Bournemouth University include ground movement, groundwater changes and other environmental factors such as ground temperature.
The data will be processed and analysed in the cloud using AI/ML methods developed by Bournemouth University, for interpretation by BGS experts.
The Dorset coast has seen five cliff movements this year alone, including a major landslide in April which saw more than 4,000 tonnes of rubble slip from the cliff face.
The Vodafone is also partnering with Wessex Internet to trial the NB-IoT sensors on local Dorset farms.
Sensors developed by Wessex Internet, and installed within the Vodafone device, receive live alerts, data, and insights from around  farms, monitoring real-time agricultural information.
This includes the health of the soil, water quality of nearby streams and rivers, and the tracking of cattle and high value machinery.
The new technology will allow local Dorset farms to monitor and manage productivity via a single platform, developed by Wessex Internet, while reducing their environmental impact more effectively.