PE firm takes Maxar Technologies private in $6.4b deal
The space technology company, which builds communications and Earth Observation satellites, has now gone private and will no longer be listed on the New York Stock Exchange (and it will also be delisted from the Toronto Stock Exchange).
Advent and Maxar had previously announced entering into a definitive merger agreement. Under the terms of the deal, all Maxar shares would be acquired for $53 per share in cash, valuing Maxar at approximately $6.4 billion. J.P. Morgan Securities was the financial advisor to Maxar.
Maxar Technologies
We reported in July last year that Maxar, along with Lockheed Martin, was selected by the U.S. National Oceanic and Atmospheric Administration (NOAA) to advance its Earth observations from geostationary orbit (GEO).
The contracts were officially awarded by NASA on behalf of the NOAA to meet the objectives of the GeoXO programme. The total value of each of the ten-month fixed-price contracts is approximately $5 million.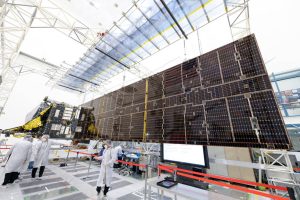 Pictured right is the first of two solar arrays for Nasa's Psyche spacecraft. Measuring 37-foot in length, Maxar built the arrays and solar electric propulsion chassis.
Images: Maxar Technologies, and NASA/JPL-Caltech (bottom)
See also: Spiders in Space – Maxar wins NASA contract for robotic in-space assembly
View more : IGBT modules | LCD displays | Electronic Components