Samsung to build $17bn foundry fab in Taylor, Texas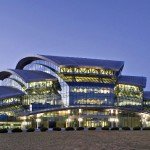 Samsung is thought to be holding a board meeting today to sign off on the deal.
Samsung already has a fab site in Texas – at Austin – and Samsung had been considering building the fab at the Austin site as well as in Arizona or New York.
Samsung is also adding to its foundry capacity at its fab site at Pyeongtaek, south of Seoul.
TSMC and Intel are building foundry fabs in Arizona.
TSMC has a 53% foundry market share and Samsung has 17%.
The Taylor fab is expected to create 1,800 jobs and to start running wafers in 2024.