Swiss space debris startup sees ClearSpace in United States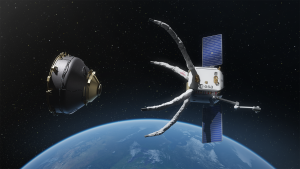 With offices also in the UK, Germany, Luxembourg, it has announced its US subsidiary, ClearSpace Today, expanding beyond Europe for the first time. This will help it address the world's largest space economy, says the company.
"As a global leader in IOS, ClearSpace is in an excellent position to meet the needs of US customers in both public and private sectors," said its Chief Strategy Officer and US General Manager, Tim Maclay. "Combining our experience in Europe with the broad supplier base and deep talent pool present in the United States creates a potent recipe for a safer, more sustainable, and more circular space ecosystem."
It was in 2020 when it won a prime contract from the European Space Agency worth almost $100 million to develop and conduct the world's first orbital debris removal mission, dubbed ClearSpace-1.
Employing nearly 100 people, it is also working on an additional debris removal mission and a mission with Intelsat to extend the life of a satellite in geosynchronous orbit.
UK Space Agency
In September last year, the UK Space Agency backed Clearspace and Astroscale to design missions to help clear hazardous space junk.
Contracts worth £4 million were awarded following the completion of a feasibility study of the CLEAR mission to remove two UK-registered derelict objects from low Earth orbit.
A consortium – led by the company, along with organisations such as AstroAgency, Deimos, MDA, the Satellite Applications Catapult and the University of Surrey – are performing the preliminary design of the mission.
Pictured above is an artistic-impression of the ClearSpace 1-servicer approaching the VESPA payload adapter in the worlds first active debris removal mission commissioned by the European Space Agency.
Image: ClearSpace
See also: ClearSpace space debris removal raises €27m Series A
View more : IGBT modules | LCD displays | Electronic Components