UK made: Glass chip couples to optical fibres to silicon photonics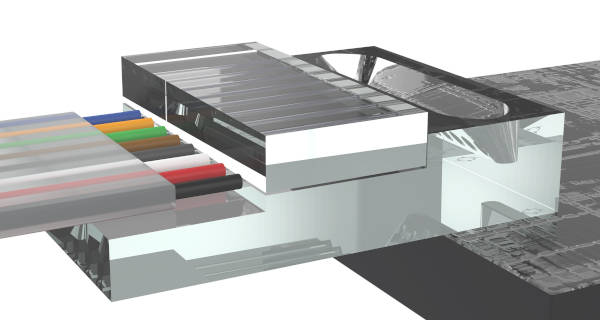 Branded OptoCplrLT, the devices are monolithic curved glass mirrors which turn light to direct it to or from silicon-photonic grating couplers (see diagrams).
"This prevents the need for bend-tolerant fibre solutions which have some significant limitations in size and profile," according to the company.
Made using a proprietary laser writing technique, the couplers are around 1.5mm high including cap (~1mm without) and are compatible with industry-standard materials and processes, said Optoscribe: for example the glass chip has a coefficient of thermal expansion matched to the silicon chip (see table below).
"We are pleased to announce that we are sampling OptoCplrLT, which offers data centre operators, transceiver manufacturers and optical component suppliers a solution to help address fibre-to-silicon photonics IC coupling challenges and help overcome silicon photonics transceiver packaging and integration hurdles," said company CEO Russell Childs.
| | | |
| --- | --- | --- |
| Parameter | Value | Notes |
| Operating wavelength | 1280-1625nm | |
| Insertion loss assembled | <0.5dB | |
| Number of channels |  2, 4, 8 | Other channel counts optional |
| Channel pitch | 250μm | Other channel pitches optional |
| Optical output angle | 8° to normal | Other angles optional |
| Working distance of focal plane | 24μm | Working distances 0-30μm+ optional |
| height | ~1mm | ~1.5mm with cap |
| Glass substrate | BF33 | 3.25 ppm/K |
| Fibre type | G657.A1 / G652 | |
The OptoCplrLT product page is here
These couplers are made at Optoscribe's based in Livingston Scotland, where it has research and development as well as manufacturing cleanrooms. Its products include fibre alignment arrays, fibre-to-fibre interconnects, multi-core fibre fan-outs, photonic lanterns, transceiver photonic integration platforms, silicon photonics couplers and other optical sub-assemblies.