Functional safety in touch controllers for industry and the kitchen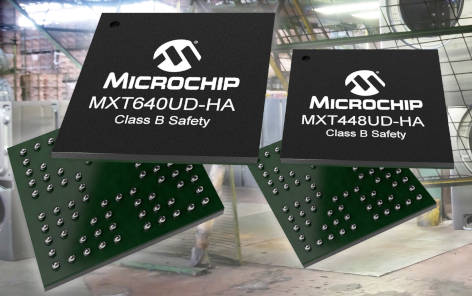 Microchip is introducing a touchscreen controller certified to IEC/UL 60730 Class B that will work on displays over 10in across.
Called MXT448UD-HA, it is also compliant with IEC61000-4-6 Class A for conducted noise immunity up to 10Vrms (level three for industrial use).
"This enables products with a touch screen interface to function in very harsh factory environments where electromagnetic interference can be caused by conveyer belts, power rails or assembly machinery," according to the company. "Manufacturers of home appliances will benefit from an increased reliability and production yield. This is a big improvement for consumers using unprotected touchscreens on an oven or washing machine that may result in concern for false or missed touches caused by electromagnetic interference from unshielded power transmission, electric motors, and neighbouring electrical equipment."
MXT640UD-HA is a similar product for use on displays up to 9.7in.
Each has both SPI and I2C interfaces that can operate simultaneously to add redundancy to a design – for example allowing separate communication to the host MCU and safety MCU. Touch events are provided to both processors at the same time.
This architecture allows all safety-critical firmware to be developed on a dedicated safety-certified MCU with mandatory source code review by an IEC/UL test lab, separate from code running the appliance's graphical user interface on the main processor.
According to the MXT640UD-HA data brief (data sheets not publicly available), it works through PET plastic or glass, including curved profiles, although "configuration and stack-up to be approved by Microchip or a Microchip-qualified touch sensor module partner".
A bare finger can be used with 10mm glass or 5mm PMMA plastic and  gloved multi-finger touch is possible with 6mm glass or 3mm PMMA. There are sensor and finger caveats on both of these, and gloves are up to 5mm thick (which is equated to 2.7mm PMMA – and interesting factoid, Ed). Non-rectangular sensor designs are supported – circular, rounded or with cut-outs, for example.
According to Microchip: "the MXT448UD-HA and MXT640UD-HA family supports an operating temperature up to 105°C", although according to the MXT640UD-HA data brief operation is over -40 to +85°C. Clarification has been sought.
Development tools include maXTouch Studio and the general-purpose ATEVK-MXT640UD-A evaluation kit – "Customers specifically needing the home appliance functional safety version of this evaluation kit can contact Microchip to request it", said the company. MaXTouch Analyzer is a production end-of-line test/inspection tool.
Product pages:
MXT448UD-HA not yet public
9.7in MXT640UD-HA
MXT640UD-HA data brief is here